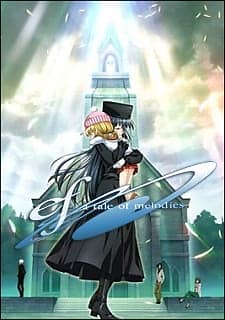 Sinopsis ef: A Tale of Melodies.
Dalam sebuah cerita yang dibuat bertahun-tahun di masa lalu, Himura Yuu adalah seorang pemuda yang rajin belajar dan rajin yang hanya ingin mempertahankan posisi akademis puncaknya di Otowa Academy. Suatu hari, dia bertemu dengan seorang gadis misterius bernama Amamiya Yuuko, yang, mengejutkannya, mengenalinya. Kenangan masa kecil yang jauh, kenangan yang agak terlupakan … bertemu Yuuko lagi akan memaksa Yuu untuk menghadapi penyesalan dan kesedihan masa lalu dan hadiah kolektif mereka. Di masa sekarang, Kuze Shuuichi mungkin tampak seperti seorang wanita, tetapi setelah diperiksa lebih dekat, adalah pria yang lebih suka ditinggal sendirian. Namun, Hayama Mizuki, bukan tipe gadis yang akan membiarkannya, terutama setelah mendengar suara indah dari penampilan biolanya. Ketika Mizuki berusaha untuk menjadi lebih dekat dengannya, Kuze berusaha mendorongnya menjauh & mdash; kisah hubungan pertunangan mereka menjadi gelap dengan nada-nada tragedi yang akan terjadi.
Animeindo
Episode ef: A Tale of Melodies.