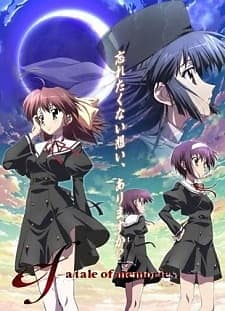 Sinopsis ef: A Tale of Memories.
Pada malam Natal, Hiro Hirono bertemu Miyako Miyamura, seorang gadis sembrono yang "meminjam" sepedanya untuk mengejar pencuri dompet. Setelah Hiro menemukan sepedanya rusak dan Miyako tidak sadarkan diri, keduanya secara tak terduga menghabiskan Malam Natal bersama, dan ketika mereka menemukan mereka bersekolah di sekolah yang sama, hubungan tidak disengaja mereka berkembang lebih jauh. Ini memicu kecemburuan teman masa kecil Hiro, Kei Shindou, yang pendekatannya yang murni pada kehidupan menarik perhatian Kyosuke Tsutsumi, seorang fotografer wanita yang mencari gambar sempurna. Di tempat lain, Renji Asou, seorang bocah lelaki yang bermimpi menjadi ksatria seorang gadis dalam baju besi yang bersinar, memiliki kesempatan bertemu dengan saudara kembar Kei Chihiro Shindou yang terlalu pemalu, yang menghabiskan waktunya membaca sendirian di stasiun kereta yang ditinggalkan. Keduanya dengan cepat menjadi teman dan akhirnya memutuskan untuk menulis novel bersama. Namun, ketika Renji menemukan rahasia Chihiro, kecacatan yang menyebabkannya memiliki ingatan abadi abadi, cita-cita masa kecilnya akan diuji. Dipandu oleh dua orang dewasa yang misterius, hubungan para pemuda ini saling terkait dalam kisah cinta, penolakan, penerimaan, dan kenangan yang mengharukan.
Animeindo
Type:

TV

Status:

Completed

Episodes: 12
Release Date: Oct 7, 2007
Premiered: Fall 2007
Studios: Shaft
Producers: Rondo Robe
Licensors: Sentai Filmworks
Duration: 24 min. per ep.
Rating: PG-13 - Teens 13 or older
Country: Jepang
Published : 2019-01-18T13:44:33+07:00
Episode ef: A Tale of Memories.